Leadership Development: You Don't Have To Start From Scratch
You have just returned from that conference on the latest trends and best practices in building a learning organization. Now you're anxious to put some of these nifty ideas into practice – so with great zeal and zest, you extol to your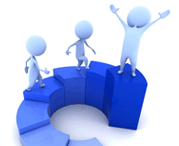 leadership team the virtues of building a strategically aligned, competency-based approach to plan and overhaul the company's leadership development program. When you're finished, your managers don't reject your ideas outright, but you can tell by the non-verbal cues that they're thinking: "Get Real! What planet are you from?"
It's not unusual for people to be resistant to change. So how do you successfully implement your leadership development initiative?
First figure out what's valuable to your organization.
Second, identify the knowledge and competencies required within the context of this culture.
Third, use assessment techniques to diagnose your leaders' current proficiency in those competencies.
Finally, complete the loop by giving your leaders the learning and development in the areas for which they are held accountable in their performance reviews.
If your company has any sort of leadership competency model or leadership learning programs, you can apply these concepts without starting from scratch. Simply build a model around the pieces your company already has in place.
Examine your company's performance management process. Identify the competencies that your organization uses to gauge great leadership performance. Common themes will allow you to infer the leadership skills that top leadership considers key to organizational success.
Identify the cognitive, behavioral and performance objectives of each course. The key here is to identify the knowledge, skills and abilities each course is designed to teach to enable target performance. Observe the courses your company offers to be sure that they are teaching what the course descriptions say they teach. This stage is an excellent opportunity to "flesh out" your leadership model by identifying the learning strategies used in each course.
Compare your organization's valued leadership performance competencies with your current core curriculum performance objectives and identify overlaps (hits) and gaps (misses.) You may find that some of the courses support development of competencies totally unrelated to what your organization values. Likewise, you may find that some of the valued competencies are not addressed at all by your existing courses.
Clearly and simply communicate your revised model. Illustrate your information in a simple, graphically meaningful form. Show how specific leadership competencies and core courses are linked. Depict any gaps (misses) that exist to propose adding or deleting coursework.
The model also serves as a concise and powerful communication tool to help your senior leaders see the precision with which their investment in training and development is being applied to what's most important to them – execution of the strategy and ultimately business results.
Michael Moody is Principal Consultant with TrainingFolks, a full-service performance consulting firm with offices in Charlotte, NC and Toronto, Canada that has worked with some of North America's most successful organizations to help implement changes and to build higher-performing employees. He can be reached at 704-987-7761 or visit www.trainingfolks.com for more information.